Seminar by Cris McCurley and Summer Celebration
6th July 2016
---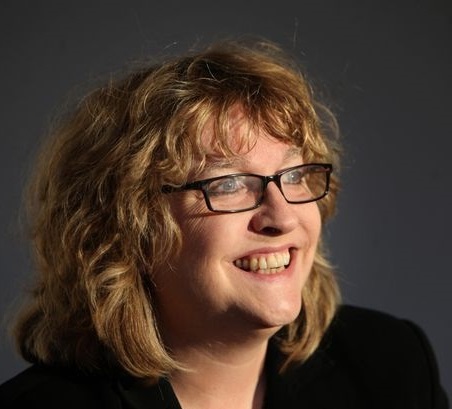 Seminar by Cris McCurley and Summer Celebration
4.30 pm, Wednesday 27th July 2016, Library Teaching Room (C130), Lancaster University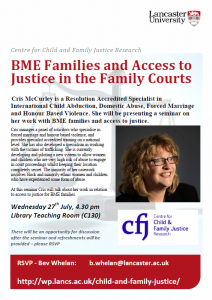 The Centre for Child and Family Justice Research is delighted to welcome Cris McCurley, who will be presenting a seminar about her work with BME families and access to justice through the family courts.
Cris is a Resolution Accredited Specialist in International Child Abduction, Domestic Abuse, Forced Marriage and Honour Based Violence. She manages a panel of solicitors who specialise in forced marriage and honour based violence, and provides specialist accredited training on a national level. She has also developed a specialism in working with the victims of trafficking, and is currently developing and piloting a new system to allow women and children who are very high risk of abuse to engage in court proceedings whilst keeping their location completely secret. The majority of her casework involves black and minority ethnic women and children who have experienced some form of abuse.
At a time when the Family Justice system is under increasing pressure to meet case time and cost targets, some of the most vulnerable in our society are becoming increasingly less able to access justice and ensure that their Human Rights under International Convention and Law are protected.
Barriers are further imposed by austerity Justice: lack of experts in court, lack of legal aid , and the general failings of LASPO and the Legal Aid System to accommodate diversity often leading to women and children being left in situations of significant harm.
This seminar will aim to highlight these issues and to look at changes required to address them.
There will be an opportunity for a discussion and questions after the seminar, and refreshments/nibbles will be provided. Colleagues are invited to progress to the Robert Gillow pub in Lancaster afterwards!