"The First Day of Forever": new film launched to improve journey for special guardians
9th July 2020
---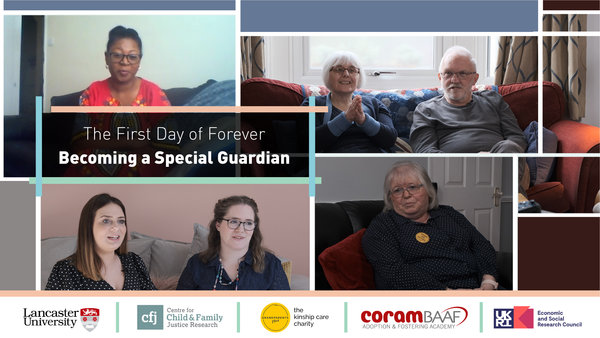 A new documentary film has been released today focussing on the experiences of special guardians in England and the rewards and challenges of bringing up relatives' children following care proceedings.
In 'The First Day of Forever', which has been made by Centre Co-Director Professor Judith Harwin, in partnership with leading kinship care charity Grandparents Plus, and CoramBAAF , special guardians speak out about how unsupported and isolated they felt.
Given too little or the wrong information, misunderstood, shut out of court or lost in a sea of legal and social work jargon, special guardians describe how they felt locked into a bewildering process beset with obstacles at every turn and afraid to question or challenge the authorities.
The film was funded by the Economic and Social Research Council (ESRC), and follows national research by Professor Harwin and a team at Lancaster University and a rapid evidence review carried out by Dr John Simmonds from CoramBAAF and Professor Harwin, commissioned by the Nuffield Family Justice Observatory in response to the Court of Appeal's call for authoritative, evidence-based guidance for the use of Special Guardianship Orders. The research and review, which showed that SGOs provide children with a safe, permanent home with family members when the court decides they cannot live with their birth parents, called for significant changes.
For further details contact Professor Judith Harwin (j.e.harwin@lancaster.ac.uk)