Upcoming event: Exploring the intersections between criminal justice and children's social care during pregnancy and early motherhood Tuesday 5th October 10am-3pm
7th September 2021
---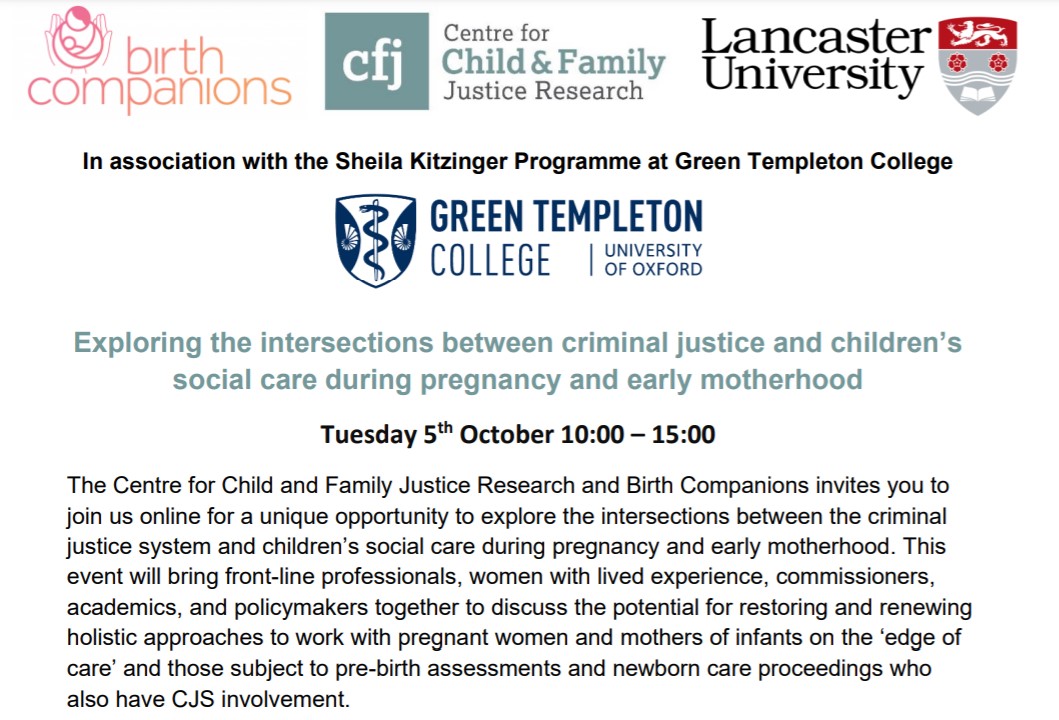 ​ Exploring the intersections between criminal justice and children's social care during pregnancy and early motherhood
Tuesday 5th October 10:00 – 15:00
Full programme now available here.
The Centre for Child and Family Justice Research and Birth Companions invites you to
join us online for a unique opportunity to explore the intersections between the criminal
justice system and children's social care during pregnancy and early motherhood. This
event will bring front-line professionals, women with lived experience, commissioners,
academics, and policymakers together to discuss the potential for restoring and renewing
holistic approaches to work with pregnant women and mothers of infants on the 'edge of
care' and those subject to pre-birth assessments and newborn care proceedings who
also have CJS involvement.
Representatives from across the maternity, criminal justice, social care, legal, and
voluntary sectors will be in attendance, ready to share examples of best practice and
ideas for improvement in the care and support provided at this crucial point in women's
lives
Our morning session will include short talks from a range of speakers including:
• Professor Karen Broadhurst, Co-Director: Centre for Child and Family Justice
Research, Lancaster University
• Naomi Delap, Director of Birth Companions
• Dr Shona Minson, British Academy Post-Doctoral Fellow, Centre for Criminology,
University of Oxford
• Tamsin Bicknell, Consultant Midwife for Public Health and Safeguarding, Homerton
University Hospital
• Caroline Bald, Lecturer and Course Lead, MA Social Work, University of Essex
• Dr Lucy Baldwin, Senior Lecturer in Criminology, De Montfort University
In the afternoon we will host a number of breakout discussions on specific issues,
including the value of pre-birth specialism, the opportunities provided by the new
probation services, and priorities within the prison system.
Register for your place here:https://wcjs.eventbrite.co.uk
If you have any questions or queries, please contact Mariam at m.abouelenin@lancaster.ac.uk